From a commercial perspective, Vivo Pro Kabaddi is a proven marketing platform raising the bar every year. In continuation of this upward trend, Season 8 delivered an average integrated cost: benefit (ROI) factor of 1:17 to its central league sponsors, which is considerably higher than the average Indian industry standard of 1:8. The captive and compact indoor environment of Vivo Pro Kabaddi provides an optimal stage for sponsors to garner consistent and high intensity visibility enabling strong viewer recall, resonance and impact.
Vivo Pro Kabaddi with its powerful integrated marketing communications platform (i.e. fusion of functionally customized on-air contextual match segments / brand integrations and on-ground consumer engagement assets architecture) provides an effective fit for brands from different categories and varying stages of evolution in their lifecycle. Having the ability to address objectives across the entire brand adoption funnel ranging from awareness building to creating advocacy. This clearly reflects in the performance of long standing partners who have been associated with the league for over 3+ years experiencing a much higher NPS score (advocacy levels) amongst the sponsorship aware sample group (see Exhibit-3 below). Confirming the industry adage that long term sponsorship associations derive greater value and impact compared to a short term activity.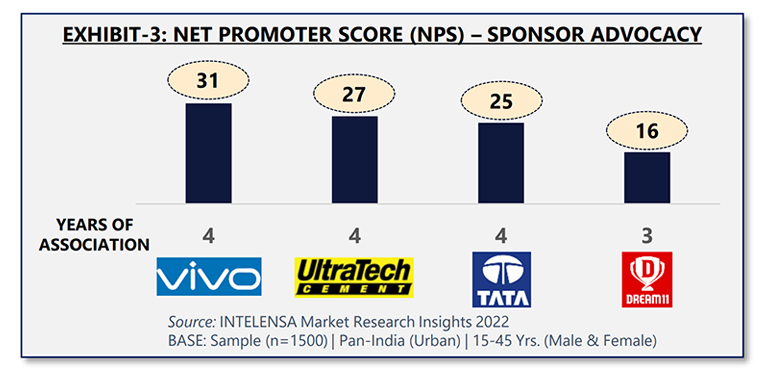 Interestingly, even classical advertising spot buyers (category new entrants) such as WINZO, HOWZAT, MYFAB11 and Fan2Play recorded strong resonance level amongst Vivo Pro Kabaddi viewers (i.e. higher scores across brand metrics in the ad seen sample group when compared to the ad not-seen sample group) despite the presence of category leader and a dominant league sponsor DREAM11.
Vivo Pro Kabaddi's versatility as a marketing platform and the spectrum of possibilities on offer creates exciting consumer engagement prospects. Already fuelling engagement from top brands and the new wave of multi-year commercial deals with both domestic and international companies keen on leveraging this opportunity is expected to continue. Further driving the value and marketability of the league and its prized commercial assets.